G-wheel Rover wheelman bushpig, it is all new era mortized ATV....

Manufacturer: EngageHobby
SKU:
N/A
MPN:
sports
UPC:
normal

Price:

$699.00

This item is out of stock
Stop looking... this is it!!!
Same functional and fun with much less and more affordable than the alike product on market.
(Item is ship direct from factory, and clearly mark as G-WHEEL.)
We'll ship UPSP / UPS / DHL depends on location.


BRAND NEW 2009 MODELS OF XTREME ROVER
X-ROVER, ATV

AKA BUSHPIG, WHEELMAN, G-WHEEL.

SEE PHOTO LINK.
Many IMPROVEMENTS THAN THE PREVIOUS (2008) MODEL.

Brand New X-ROVER; 49CC gas powered, 2008 Model. Lot more improvement than the previous one.

(color availability subject to change w/o notice)


http://www.youtube.com/watch?v=woOAmaNagpY&mode=related&search=


The worlds first hub-less wheel off-road vehicle! Bridging the gap between a recreational toy and a high performance machine, the Wheelman is on the cutting edge of technology for the future. It's like a motorcycle for your feet, and this hub less vehicle is a new breed of off-road transportation fun!


Features:
1) Max speed: 45km/h
2) Engine: 49cc
3) Wheel diameter: 10" rim 14" overall
4) Fuel mixture: 25:1 (gasoline : oil)
5) Max load: 120kg

6) Max ability of make the grade: 15 degree
7) Maximal power: 3HP
8) Gasoline tank: 0.9L

Packing: 1pc/ctn
Carton dimensions: 115 x 33 x 46cm
N.W.: 26kg



Passed CE/EMC test by SGS Company





Products Details





Disk Brake




Tuned Aluminum Exhaust




Auto Chain Tensioner




Stainless Steel Frame




16mm Fully Adjustable Carburetor


Footing: Regular (Natural) or Goofy: You can change any time, only 2 bolts to change the side of the swing arm.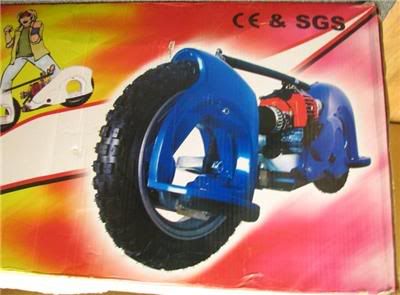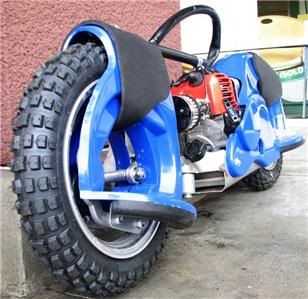 E-mail a friend about this item.