1/5 FS Racing, Onroad Touring Race Gas Car, 2WD, 30cc, RTR (4WD option)

Manufacturer: Engage Hobby
SKU:
FS-11101
ISBN:
EngageHobby
MPN:
284
UPC:
P 1/5

Price:

$629.88

This item is in stock
FS Racing 2WD RC ON-ROAD TOURING CAR (4WD available for $99)
Free Upgrade:
Chrome Exhaust Pipe
Upgraded Alloy Air Filter Case
FM Radio Tx/Rx

Valuale Upgrade Package:
***26cc CY ENGINE
(SIMPLY ADD $99, Engine retail over $299).
The RTR Kit features:
Receiver & Servos
30cc 2 Stroke Gasoline Engine
Pistol Grip Transmitter
2WD Drive Line
Enclosed Gear Cover
Pre Painted Body Shell
High Strength Plastics
Specification:
Powerful CN 30CC engine
One metal gear including steering servo
CVD flexible bevel shaft
All metal gear front or rear diff
4mm stiffened anodized aluminum 6061 T6 chassis
Universal joint cup suspension system
Adjustable with double wishbones
Full ball bearing
4 step gear reduction system
4 full aluminum oil-pressure shock absorbers
650cc huge fuel tank capacity support full running time: 1 hour
Dual disc brake system
Easy adjustable caster angle: 0 to 6 degrees
Adjustable camber angle and toe-in angle
2CH transmitter achieves maximum 300m long control distance
PC silk screen body shell
ABS silk screen body shell
Speed: 50 MPH
Gear ratio: 12.3:1
Steering servo: GWS 22kg with speed 0.24s/60 degrees
The body Shell is pre painted and pre stickered saving you time to ensure a quick start at the track.
The Fs Racing 4wd Monster Truck comes with 4 pre glued Cross Country Rally wheels and tires featuring an aggressive tread pattern .
DIMENSIONS - Length - 900mm, Width 450mm, Height - 25mm
Length - 35 1/2", Width 17 3/4", Height - 10 5/8"
PACKAGE CONTENTS
1 X RTR 2WD 1/5 SCALE Onroad touring car

1 X 2 CHANNEL RADIO CONTROLLER

1 X PREPAINTED BODY SHELL

1 X USERS MANUAL AND SPARK PLUG TOOL
REQUIRES
· 12 X AA BATTERIES FOR REMOTE CONTROLLER
· 2 STROKE UNLEADED GAS / PETROL 25-1 OIL MIXTURE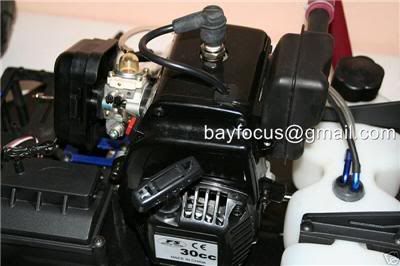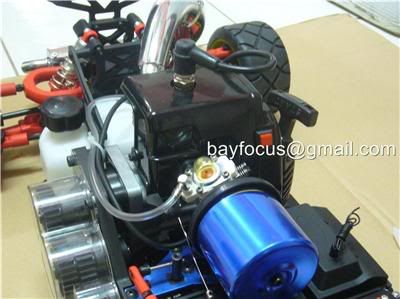 E-mail a friend about this item.